We Stand Behind Our Gasoline!
Huck's stands behind every product it sells. Every gallon of Huck's gasoline is guaranteed. If you should ever have a fuel-related problem while using our gasoline, Huck's will make it right – guaranteed!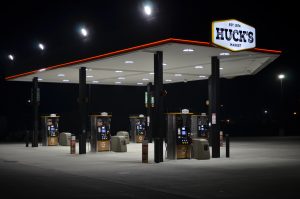 Fleet Card Program
No fees
The Huck's Fleet Card gives you all of the benefits with no monthly fees, no set up costs, and no additional card fees with email billing. The Huck's Fleet Card will work for you and help advance your fleet regardless of the size of your business. Big or small – the Fleet Card will work for you.
Secure, flexible
Custom authorized controls allow you to set limits to restrict card usage. Unique driver identification numbers prevent unauthorized usage if a card is lost or stolen and help to ensure employee accountability. Card purchases may be restricted to "fuel only", and you have access to the data needed to track monthly expenses.
Customer support
At Huck's, we go to great lengths to ensure that every Huck's store provides "Best In Class" customer service. As a 100% employee-owned company, we take pride in servicing your needs and truly value your business. Our Huck's Fleet Staff is available 24/7 and ready to help you with any questions.
How do I use the Huck's Fleet Card?
Simply present your Fleet Card at the time of purchase, enter your four-digit driver security ID for authorization and start pumping. It's that easy!
After every purchase, your fuel receipt will be available to view online. Your online account updates automatically after each purchase so you can easily and quickly manage your costs efficiently with no hassle.
Card is valid at all participating Huck's offering diesel
Program participation contingent upon Fleet One credit approval
No finance charges incurred when balance is paid in full each month
Fleet Card use constitutes cardholder acceptance of program terms/conditions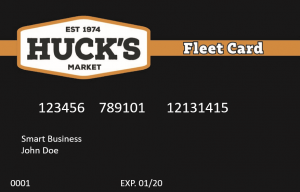 HUCK'S Fleet Information Request